In a pursuit to minimize downtime, facilitate movement and maximize productivity, Onpoint Industrial Services, an industrial support company, made a strategic decision to engage BIC Recruiting's services.
Timothy Long, VP of marketing and sales with Onpoint, highlighted the key advantage of relying on BIC Recruiting to identify top candidates. He felt that BIC's extensive candidate network and expertise made it the natural choice for Onpoint's recruitment needs, ensuring a smooth and seamless process.
"The biggest perk of using BIC Recruiting to find a new hire is that they understand who the best candidates are," stated Long. "They understand the industry, our role and business."
Among the many qualified and experienced candidates presented to Onpoint, one individual stood out — Ashton Kacena, who proved to be the ideal match for the company's open business development position. Onpoint effectively aligned with Kacena's needs and requirements, which was a critical factor in his job search.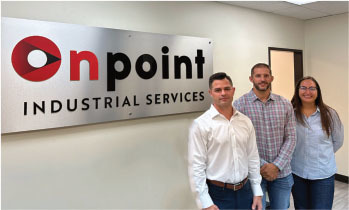 Reflecting on his experience, Kacena appreciated the exceptional level of communication demonstrated by BIC Recruiting. "I have worked with other recruiters in the past who sometimes left me hanging, but BIC always maintained open communication. The BIC team made me feel like they cared. The experience was great — very straightforward and transparent."
For more information about Onpoint, visit onpoint-us.com.