Over the past few years, Sulzer, a company specializing in fluid engineering and chemical processing applications, has consistently relied on BIC Recruiting to fill its employment vacancies effectively. The trust Sulzer has in BIC as a reliable source stems from its exceptional ability to identify qualified candidates within a condensed timeframe, something Sulzer finds key in an ever-changing workforce.
Each potential candidate is meticulously selected to ensure their alignment with the job description, considering breadth of experience and expertise, said Rodney Alario, director of operations at Sulzer.
"The BIC Recruiting team is very knowledgeable of the Gulf Coast marketplace — which is beneficial in order to secure the proper candidate," Alario said.
On the applicant's side of the process was Cara Saile, who previously had a positive experience with BIC. Even before the position officially opened, Saile eagerly reached out to BIC again.
Saile expressed her strong desire to work in the O&G industry, particularly in a sales and business development capacity. From there, things began to snowball in the right direction.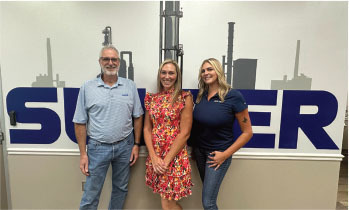 "The interview process was super easy with a lot of communication between Sulzer and BIC," Saile shared.
When speaking about the BIC recruiters that assisted her, Saile commended their efforts. "They listened to all my needs and what I wanted in a job position."
For more information about Sulzer, visit sulzer.com.